Betty Fold History
"I have visited many parts of the World and have revelled in the marvellous beauties to be found in them, but for concentrated loveliness I know nothing that can quite compare with the lakes and mountains of Westmorland, Cumberland and Lancashire"
So wrote Henry Holiday who built Betty Fold as a holiday home.
The house was built in 1907-8 by Henry Holiday who was an artist and designer of stained glass windows. He was a friend of William Morris, Rosetti and Edward Burne-Jones and a regular visitor to John Ruskin at Brantwood. There are several examples of his stained glass in local churches.
Oscar Gnosspelius, on whom the "Swallows and Amazons" character "Squashy Hat" is based, once owned Betty Fold.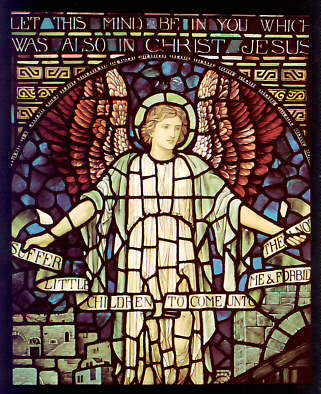 Henry Holiday
Much of Henry Holidays work is in the Pre-Raphaelite style. His best known painting is of Beatrice and Dante which is in the Walker Gallery in Liverpool. There is also a huge mural in Rochdale Town Hall of the Signing of the Magna Carta.
He was particularly renowned for his stained glass designs and there are many fine examples in local churches e.g. St John's Keswick, St Mary's Rydal and Holy Trinity, Casterton. The Brunel Window in Westminster Abbey and the Robert E. Lee window in St Paul's Richmond, Va. USA were also designed by him.
He also illustrated Lewis Carroll's "The Hunting of the Snark" and the first edition of "Through the Looking Glass" but these were in a very different and original style.
More examples click here
Henry Holiday was a supporter of William Gladstone and a keen socialist who wanted to put more beauty into everyone's life. Along with his wife, Kate Raven, and his daughter Winifred he supported the Suffragette Movement.
He was also a prominent member of the Aesthetic Movement and campaigned against the blacks and greys and the strict dress code of the Victorian era advocating a more colourful and relaxed mode of dress and the abandonment of the corset!
Building Betty Fold.....and how it upset the 'neighbours!'
Henry Holiday and his wife Katherine and daughter Winifred used to stay in Melrose Cottage on Hawkshead Hill. They loved the Esthwaite Valley and wanted to purchase a house of their own in the locality. Then in 1906 Dodgson Ground came on the market and Henry was able to purchase it before the locals could! He chose the best position for the house on 3 acres known as Bull Copy and sold off the remaining land. He called the house Betty Fold after an existing place name but we have been unable to find the origin of the name itself.
The "villa residence" that he himself designed is a unique and unusual building of considerable character and charm. It has a glorious outlook across the valley from its elevated position in a natural ampitheatre. It was built by Jonathan Bell and the Ushers of Coniston using stone from a nearby quarry at Grassings.
However interesting the new house may have been it did not please the Cooper-Essex family who were wealthy local landowners and who lived opposite Betty Fold in High House (now Yewfield). The new house completely spoiled their lovely view across the valley. One member of the family was so upset that they moved away whilst those remaining built a screen of yew trees to obliterate their, "blot on the landscape" and refused Henry Holiday permission to pipe water from Tenter Beck across their land. Fortunately there was a stream in the grounds from which he could pump water and the yew trees now screen Yewfield from Betty Fold!
Mrs Pankhurst, high hedges and low doors.
Henry Holiday and his wife and daughter were very active supporters of the suffragette movement and Mrs Pankhurst and her daughter were close acquaintances.
They dined at Betty Fold on several occasions and it is known that Mrs Pankhurst appeared before the local magistrates on at least one occasion and the Holidays organised suffragette meetings in the market hall which were very popular.
Now Betty Fold had an unusual number of entrances each of which was protected by a hedge or screen. There is also a low door behind a toilet in the basement which allows access to the substantial foundations of this house on a slope, a good hiding place perhaps? All these secluded doorways would make it easy to slip away undetected if unwelcome visitors arrived.
Click here for local information